Donnie Fatso
is the ninth episode of
Season 22
. Jon Hamm guest stars as an FBI agent and
Joe Mantegna
returns as
Fat Tony
for the last time. This is the first time
Fit Tony
, Fat Tony's sporty cousin, appears.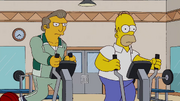 Synopsis
Homer is sentenced to ten years in jail. The FBI offers him a deal, so he agrees to infiltrate Fat Tony's mob, undercover.
Full Story
It is only eleven hours into the New Year and Homer has already gotten into trouble with the law for everything that has gone wrong in everyone's life. To recover government funds, a series of new laws have been passed that make almost everything a heavily fined crime, including telling it like it is and even adding up the total of his fines. On Moe's advice, Homer goes to city hall to bribe an official out of his debt, but his impatience leads him to leave a bag clearly marked 'bribe' in the window while he is absent, and Homer gets confronted and arrested by Chief Wiggum.
In court, Homer is sentenced to ten years in the federal penitentiary. He is given one option to get out sooner: He must wear a camera and microphone in a disguise and infiltrate Fat Tony's gang. In a parody of the award-winning movie Donnie Brasco, with elements from The Godfather, The Untouchables, and Goodfellas, Homer becomes very close to Fat Tony.
Fat Tony openly gives him his complete trust; meanwhile, Homer is transmitting to the FBI. Homer is torn between the law and his newfound friendship. Homer is there for Fat Tony, whether it is putting oregano on his spaghetti and meatballs or visiting his late wife's grave who was "whacked by natural causes". Near the end of the episode, following the line of Donnie Brasco, there is a big bust. Homer tells Tony to get out of the area, but because he is so confused, Fat Tony hesitates. The FBI comes in. In a tragic display of emotion Fat Tony tells Homer that he was his friend and he trusted him. He then suffers a heart attack and dies in Homer's arms. Homer is freed from his work with the FBI without as much as a thank you, and is very depressed about Fat Tony's loss. Homer visits his grave in sorrow, throwing his disguise on the grave in a poetic apology. He is hit with a shovel from behind and gets knocked out.
Homer awakens to Fat Tony's voice. He then realizes that Fat Tony's nearly identical cousin, Fit Tony, is standing before him. The major difference between the two is Fit Tony wears a classic mobster tracksuit, and is in excellent condition. Fit Tony is going to whack Homer, but chooses not to, because his cousin lives on in his memories, and to extinguish him would be to whack what still remains of him. Fit Tony takes his cousin's place running the Springfield mob. When the pressure gets to him, Fit Tony, who now dresses like Fat Tony, eats, gaining weight. He is then called Fit-Fat Tony, but gains more weight and is just called Fat Tony. He looks, acts and sounds like Fat Tony, which is The Simpsons way of making it like it never happened.
Trivia
In this episode, it is stated that while Americans are already waking up from the New Year party and it's already January 1st, Samoa is still celebrating the New Year. However, due to its location towards International Date Line, Samoa is one of the first places in the world to celebrate the arrival of the New Year, way before the United States.
Citations
​