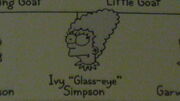 Ivy "Glass-eye" Simpson was one of five childen of Rupert Simpson and Winifred Running Goat. Her sisters were Trixie and Prudence and her brothers were Galston and Garwood.
Her great-great-great-great granddaughter-in-law, Marge Simpson, bears a strong resemblance to her.
Based on her picture in the Simpson's family album, her left eye was a glass eye, for which she was nicknamed.
Appearance

Book – The Simpsons Uncensored Family Album