Ronald Lee Ermey (March 24, 1944 – April 15, 2018) was an American actor best known for playing military figures. He voiced Colonel Leslie Hapablap in "Sideshow Bob's Last Gleaming" and "Waiting for Duffman".
A former United States Marine, Ermey was hired as a technical adviser on Stanley Kubrick's Vietnam War film Full Metal Jacket, but Kubrick found his description and re-enactment of conditions in a Marine Corps training barracks so authentic that he cast Ermey in the film as Gunnery Sergeant Hartman, a role which earned him a Golden Globe nomination for Best Supporting Actor, and became the model for several of his later film and television roles.
Ermey was medically discharged from the Marine Corps in 1972, with the rank of Staff Sergeant, however, in 2002 he received an honorary promotion to Gunnery Sergeant.
Ermey died from complications related to pneumonia on April 15, 2018. He was 74 years old. "Lisa Gets the Blues" was dedicated to him.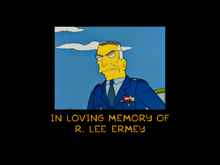 External links